! var lis = document.querySelectorAll('header nav li'); var i = lis.length; while (i--) { var a = lis[i].querySelector('a'); var section = a.getAttribute("data-section"); if (new RegExp(section).test(document.location.href)) { a.className = 'current'; } } -> <! var lis = document.querySelectorAll('header nav li'); var i = lis.length; while (i--) { var a = lis[i].querySelector('a'); var section = a.getAttribute("data-section"); if (new RegExp(section).test(document.location.href)) { a.className = 'current'; } } ->

---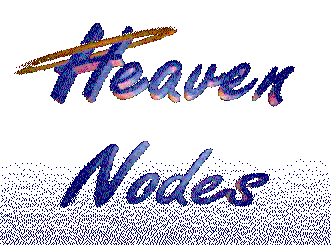 Today's network manager needs a combination of an automated LAN inventory control system, a configuration management system, a workstation software control system, and a magic wand !
Heaven Nodes rolls all these tools into an affordable, easy to use management tool. Heaven Nodes is a Microsoft Windows based product that collects over 1500 hardware and network items, and works with almost any type network. Heaven Nodes, the Industry's Premier LAN Management Software, has been conceived, designed and utilized by practicing systems integrators and LAN managers since 1989.
Heaven Nodes works by creating a baseline record of a workstation's initial configuration upon system discovery at logon time. This baseline is then compared to the workstation's actual settings each time it logs into the network. If a hardware or configuration change is detected, Heaven Nodes logs the change in the master database. In this way Heaven Nodes can alert you to all workstation changes in your network. With Heaven Nodes, you are always in control of your network and workstations. You get unmatched, non-invasive (no TSR) management capabilities for your network.
Heaven Nodes can also scan a workstation's local disk drives for installed software in the auto-discovery mode and log the results to the master database for you to manage. Heaven Nodes even employs a proprietary virus detection scheme for each program that is managed. AutoExec.Bat, Config.Sys and Command.Com information is collected from the boot drive automatically for DOS workstations.
And if a workstation fails to access the network, Heaven Nodes comes with the program RECON - a method for you to get the problem workstation's baseline information from the master database, take it to the troubled workstation on a floppy disk, and review any configuration changes that may have caused the workstation to fail to logon.
---
---
HEAVEN NODES allows the network manager to:
Manage configuration information for each workstation/concentrator attached to the network, including noting CPU bugs for all Intel chips, such as latest Pentium bug.
Collect and track data on the LAN equipment by serial number, installation date and other criteria;
Automatically collect node information (hardware and software inventory) during login and compare that information with the previously established baseline configuration, noting critical and minor changes;
Automatically design and generate TCP/IP net and subnet addresses;
Track all wiring, including network, voice, video, etceteras,
Audit all, or specific, software on local drives.
HEAVEN NODES provides a wide range of advanced features to the network administrator including:
Microsoft Windows 3.0+ application interface;
Automatic node address management across most networks, including:
Novell NetWare - all versions
Microsoft LAN Manager (2.0 or higher)
DEC Pathworks
3COM OPEN/SHARE
Banyan VINES (4.10 or higher for Windows)
TCP/IP and NETBIOS Networks
Automated configuration and inventory management;
Automated node software version management;
Manual node diagnostics upon login failure;
TCP/IP net and subnet addressing management
EtherNet, Token Ring and ARCnet address management.
Monitor close or remote UPS's
Optionally, HEAVEN NODES works in conjunction with or without the following concentrators and/or Protocol Analyzers:
DSI ExpressNetworks, Inc. - Direct alarm DDE connection
SynOptics Communications, Inc. - Import/export databases
LANTern (Novell) - direct database manipulation
NMS (Novell) - direct database manipulation
The following OEMs work in the Windows mode with Heaven Nodes:
CableTron RACAL/Datacom
InterLAN Chipcom
Network General Digilog
Hewlett Packard & other OEMs
HEAVEN NODES allows the information that each above OEM deposits into an ASCII or other flat file to be placed within the relational database. This provides for unparalleled data acquisition and analysis per node within a single program environment.
HEAVEN NODES Management can reside alongside the MAC layer management software in the network management workstation. It saves its information to a central database on a file server using the Btrieve relational database. The data gathered is impressive -- 1100+ items in 1.5 seconds on a Novell network and an average workstation.
When a user logs in, Heaven Nodes downloads a program called Investigator. HEAVEN NODES Investigator is not a terminate-and-stay resident (TSR) program, so it does not stay in the DOS workstations' memory after it completes its inventory. The Investigator reports hardware and software configurations back to HEAVEN NODES. If a change in the hardware or software configuration is detected, HEAVEN NODES will alert the network manager. The manager can then take the appropriate action before problems arise. This feature, when used in conjunction with other cooperative network management systems, gives the network administrator the proactive edge to network administration and troubleshooting. The Investigator can also be configured to automatically LOGOFF any new (unauthorized) workstation, until the network administrator approves.
If more information is required about the software on the workstation local drives, another program called SoftScan/dTechtiv can be executed at Login. SoftScan can be configured to either look for certain software packages on all local drives, or to look for certain software packages on certain drives, or a combination of both. This is further enhanced by allowing scans for all files, all executables (EXE's and COM's), and/or all extended executables.
HEAVEN NODES offers cabling maintenance and controls. HEAVEN NODES allows you to maintain wiring specifications for each node in the database. The Wiring database will maintain information on additional wiring as well, such as voice and video cabling for the specified location. The wiring specifications include wiring locations, wire types, identification information, reference drawing designations and testing data for quick reference.
HEAVEN NODES provides complete facilities management for all of the nodes attached to the network. Reports showing equipment listings and settings by node are available, as well as printouts of the cabling and TCP/IP databases. HEAVEN NODES also presents reports based on both hardware and software configuration changes along with any system administrator notes. There are standard reports, or using the AD HOC Report Generator, a user can filter any database item. Filtering can be positive or negative, via text contained in the definition, presence or not, sorted various ways, etc.
HEAVEN NODES supports alarm monitoring through DSI Expressview/ Windows DDE and HEAVEN NODES' own ALARM MONITOR and DDE. The Network Administrator can set a time interval via ALARM MONITOR and thus monitor all logins on a timely basis for critical changes.
HEAVEN NODES supports remote investigation through Recon. What do network managers do when a PC will not connect to the network and they cannot look for configuration changes through conventional HEAVEN NODES? Recon does it automatically! Through Recon, the network manager has a way to establish a base line/comparison of the hardware/software of any workstation that for some reason can no longer login to the network. With Recon, the network manager can download the configuration information, of the workstation in question, to a floppy diskette, take that to the PC that is off-line, and Recon will then display the present configuration of the workstation, comparing it to the past configuration, and marking each item that has changed since the last successful login. This same process can be used with sneaker-net; i.e., no network: An inventory of non-networked PCs can be kept on floppy diskettes and a central database by assigning a unique address, pseudo or real, to each P.C.
HEAVEN NODES runs under Microsoft Windows 3.+ and uses the Btrieve relational file management system. The Management module of HEAVEN NODES is the Windows program that manages the node configuration database. The program does not require the user to load a Btrieve NLM or VAP, but one could utilize this feature of Novell.. HEAVEN NODES is the program that the network manager will routinely use to manage all other management programs. HEAVEN NODES has been in development since December of I989 and is now on its seventh release of the second version.
INVENTORY
HEAVEN NODES has the ability to automatically take workstation hardware and software inventories upon user login and report current configurations and any changes (since the baseline login - first, or last accepted) into the management database. This provides an automatic inventory of PC hardware and software on the LAN. If the workstation cannot login, HEAVEN NODES Recon can download the last valid configuration to a floppy, which can then be taken to the PC in question, and checked off-line for any discrepancies/changes in the hardware or software - a current maximum of 600 items concerning the PC and 500 items concerning the network, plus any local hard drive information..
NETWORK MANAGEMENT
HEAVEN NODES Network Management software is the integrated solution to node configuration and facilities management. The dTECH Group's HEAVEN NODES provides the control needed to manage the workstations. HEAVEN NODES is a network database management system, a network workstation and cabling system, and a facilities management system rolled into a single program. It monitors and reports workstation configuration changes in both hardware and software to the HEAVEN NODES management database. The network manager can manage the network from the workstation level up through the concentrator to the file server. HEAVEN NODES also manages multiple concentrators and file servers.
HEAVEN NODES has been designed with the network/systems manager in mind. One of the most time consuming tasks in managing a network is hunting down workstation configuration changes that cause a malfunction on the network. Users are usually reluctant to tell the network manager that they changed an interrupt or re-engineered the system initialization files. This problem becomes compounded as the network grows in size and across multiple platforms and buildings. HEAVEN NODES solves these problems and additionally gives the network manager an accurate inventory/equipment listing on each workstation without a personal visit ,or the use of a screwdriver.
UPSs
HEAVEN NODES includes the ability to monitor Uninterruptible Power Supplies (UPSs) that provide a Novell interface or RS-232 command instructions. This multi-tasking UPS monitoring is accomplished via a serial cable, an out-of-band modem, or an X.25 connection. These intelligent UPSs contain an I/0 port that can be interrogated by HEAVEN NODES and provides the network manager knowledge of the real time status of the UPSs.
To effectively manage a network, the network manager must know the network's configuration details. When a user calls with a problem on a certain application, the manager wants to know how much memory the user has, how many serial ports he or she has, or what IRQs are being used. The network manager will also want to know if any component or configuration has been recently changed. HEAVEN NODES provides first-rate documentation of LAN resources to put the answer at the manager's fingertips.
Corporate asset management is another reason for maintaining an inventory. The financial division will want to know the whereabouts of all computers and peripherals on the network. It's also the best way to keep track of software licenses.
Once, creating and maintaining a network inventory meant going from one station to another with a screwdriver and a note pad, opening each machine to list its components manually. If one could take the time to actually complete the job, it was yet another major hurdle to keep the database current. Aside from a serious time commitment, this method required that the person(s) doing the inventory be familiar with each type of device in use, and it assumed that there was documentation for each expansion card, peripheral and motherboard so that the switch and jumper settings could be translated into accurate configuration information. Heaven Nodes solves these problems and helps manage the network, all at the same time!
FULL VERSION - $495.00 FOR SERVER VERSION (500 NODES). FOR 1001 TO 10,000 NODES, CALL FOR PRICING. Limited version for 100 nodes is only $39.95.
Don't hesitate to contact us if you have any questions. dTech also has VAR pricing and site licenses.


CONTACT INFO

Mailing Address: 6564 E. 41st St · Tulsa, Oklahoma · 74145

HDQ: 6564 E. 41st St · Tulsa, Oklahoma · 74145

TULSA and Heartland: 918-585-9988 · Toll-free 800-800-4278


NEW ORLEANS and Gulf Coast: 504-355-9800 · Toll-free 800-743-7448


West Coast: · Toll-free 800-743-7448

Hours: 9:30AM- 5:30PM Central Time Zone - 5 days a week

Contact Information

| | | |
| --- | --- | --- |
| Corporate Headquarters | | |
| 6564 E. 41st St | | |
| Tulsa, OK 74145 | | |
| Voice: 504-355-9800 | | |
| Toll Free: 800-800-4278 | | Toll Free: 800-743-7448 |
Electronic mail - click on email address to send email
| | | |
| --- | --- | --- |
| General Information | | |
| Sales | | |
| | | |
| | | |
| Webmaster | | |

CLICK HERE TO GO BACK TO DTECH HOME PAGE

Send mail to Webmaster@dtechgroup.com with questions or comments about this web site.
Most text, images, and sounds contained in this site are the express property of DTECH Computerists, Inc.
All Rights Reserved. Copyright © 1995-2022 by DTECH Computerists, Inc.
Tulsa, Oklahoma USA 1-800-800-HARV
Information in this document is subject to change without notice.
Other products and companies, referred to herein, are trademarks
or registered trademarks of their respective companies or mark holders.

Rent a luxurious, six bedroom luxury Vail rental home in Vail, Colorado USA - best of Vail rental - http://www.vailrental.net/
DTECH Custom Computer Software located in Tulsa, OK USA - http://www.dtechgroup.com/
DTECH OKIDATA PRINTER REPAIR located in Tulsa, OK USA - http://www.dtechgroup.com/
DTECH EPSON PRINTER REPAIR located in Tulsa, OK USA - http://www.dtechgroup.com/
DTECH ENCAD PRINTER REPAIR located in Tulsa, OK USA - http://www.dtechgroup.com/
Rent a luxurious, six bedroom luxury Vail rentals home in Vail, Colorado USA - best of Vail rentals - http://www.vailvacationhouserentalsluxuryvailhomerentalsbyownercolo.com/
DTECH Hewlett-Packard HP PRINTER REPAIR located in Tulsa, OK USA - http://www.dtechgroup.com/
DTECH PRINTER REPAIR located in Tulsa, OK USA - http://www.dtechgroup.com/
DTECH LAPTOP REPAIR located in Tulsa, OK USA - http://www.dtechgroup.com/
DTECH Hewlett-Packard HP LAPTOP REPAIR located in Tulsa, OK USA - http://www.dtechgroup.com/
DTECH COMPAQ LAPTOP REPAIR located in Tulsa, OK USA - http://www.dtechgroup.com/
Rent a luxurious, six bedroom luxury Vail vacation rentals home in Vail, Colorado USA - best of Vail vacation rentals - http://www.vailvacationhouserentalsluxuryvailhomerentalsbyownercolo.com/
Metro Tulsa PRINTER REPAIR located in Tulsa, OK USA - http://www.metro-solutions.com/
HRST Health Risk Screening Tool Computer Software located in Tulsa, OK USA -http://www.hrst-psr.com/
PSR- Physical Status Review Computer Software located in Tulsa, OK USA -http://www.hrst-psr.com/
HRST Health Risk Screening Tool Computer Software located in Tulsa, OK USA -http://www.hrst-psr.com/
PSR- Physical Status Review Computer Software located in Tulsa, OK USA -http://www.hrst-psr.com/
DTECH HRST software in Tulsa, OK USA - http://www.dtechgroup.com/
Metro Tulsa PRINTER REPAIR SALES located in Tulsa, OK USA - http://www.metro-solutions.com/
For the best in Japanese food restaurant delivery in Tulsa - https://siansushi.com/
Great sign shop in Tulsa for unique designs, competitive prices, unmatched quality - http://www.divigne-signs-printery-graphics-design-banners-lamination.com/
Great sign shop in Tulsa for unique designs, competitive prices, unmatched quality - http://www.divigne-signs.com/