! var lis = document.querySelectorAll('header nav li'); var i = lis.length; while (i--) { var a = lis[i].querySelector('a'); var section = a.getAttribute("data-section"); if (new RegExp(section).test(document.location.href)) { a.className = 'current'; } } -> <! var lis = document.querySelectorAll('header nav li'); var i = lis.length; while (i--) { var a = lis[i].querySelector('a'); var section = a.getAttribute("data-section"); if (new RegExp(section).test(document.location.href)) { a.className = 'current'; } } ->

---
Jump to the full dTEAM White Paper
---
dTEAM - Overview
dTech Energy Accounting and Marketing Client/Server Computer System for the Oil & Gas Industry
EXECUTIVE SUMMARY
The dTEAMÓ System - which is comprised of Marketing, Scheduling, Pricing, Analysis, and Accounting - is a powerful, integrated, open business computer system that gives instant access to mission critical information for energy products management. The major modules are Crude Oil, NGL, and Refined in the Products area, and Pricing, Accounting, and Analysis in the system area. The major attributes designed in the system are:
data integration of: contract input and recall
current or retroactive pricing using various bases (posted, formula, etc.)
product scheduling for delivery and receipts into multiple sites
accounting activities such as invoicing, customer balances and profit/loss.
risk analysis, performance monitoring, and exposure management
integration into 3rd party financial systems (Oracle, etc.)
The system manages all of its information in a real-time manner, giving instant feedback to the marketer, trader, or scheduler. Superb data organization, security and integrity enhances the value for decision and deal making. The results are greater business efficiencies and better control on exposure for both product positions and trading financial information. Instant access is available for:
up-to-the minute status on product positions
what is scheduled to be received or delivered at all areas, terminals, or FOBs, and customer balances.
inventory positions of pipelines, trucks, rail cars, barges, refineries, fractionators, and storage.
The system will manage trading activities for NGLs, Crude Oils, Refined Fuels, Natural Gas, and Chemicals.
---
BACKGROUND
This system is the fourth generation of an energy products marketing and management system based upon modeling of the major functions in large, integrated, energy companies. The first generation was started in 1989 and went into production in 1990. The system features a Windows front-end and a relational database back-end. A brief summary of some of the marketing, distribution, and accounting system features is listed below.
---
SYSTEM FEATURES
Contracts
Provisions for contracts for market purchases and sales, exchanges, gas plants, refineries, T&F, MERC purchases and sales, transportation, commission, etc., are designed and operational in the system. Contracts may include an unlimited number of products and FOB designations. Revisions, supersedes, term and ever-green contracts are designed into the system. Finished contracts may be printed and or faxed to the customer. Historical versions are stored in the system for recall.
Product and Reference Pricing
Market prices, company posted prices, and other formula-based prices may be stored in the integrated price engine. If price errors are detected after invoicing occurred, the price engine identifies the invoices that used the invalid price and generates either a correcting invoice or voids the old invoice and prepares a new invoice. Time based formulas are computed on a nightly basis, when the time frame is satisfied. Historical prices are available for queries.
Distribution
Scheduling the distribution of product deliveries and receipts is another area that is handled by the system. Estimated data may be used for pre-scheduling. As actual volume data are available, the adjusting numbers are entered for the latest status, or expected commitment. Supplies and demands for product at one or more FOBs may be viewed simultaneously and linked together via the contract number. Distribution notices may be printed or faxed as required.
Movements & Inventory
As product movements occur, they are validated against what was expected or new movements may be entered for transfers. Invoices are automatically produced depending upon current pricing and contract information being available, or when it is does become available. Inventory positions by location and by product are updated as movements occur. Average cost of each inventory product is calculated.
Positions
Product positions are calculated with actual cost value or anticipated value at each FOB or terminal. Market exposures are figured on-line to give current forecast values. Profit/loss can be summed on-line to let management and marketers know the net effect of all trading (or selected trading) for a time period.
Customer Balances
Product positions owed to or due from customers are available on-line and for monthly reporting. The system handles cross product commitments or exchanges.
Risk Management and Objectives Analysis
The system also provides for Risk Management and setting objectives by product or department. Companies have expanded their long use of the Risk Management marketplace to protect their financial positions. Today, companies also wish to participate and benefit from the speculative nature of their base industry. dTEAM now also offers to the future/option traders the necessary computer aided functions to reality-manage and report their results of this highly volatile activity. The basic component is the 'contract' to buy/sell some item, financial or physical. The contracts are then associated with a business objective (Risk Segment). These Segments are categorized by Risk Type (further with Sub-Risk Type) to provide the variety needed to manage and report by user defined reporting (Reports/Report Parts). Screens are provided to allow the user to financially see matched versus open positions, and to initiate what-if scenarios with different price projections to cover open objectives. Risks can be grouped together to mirror the layering of trading activity and risk segments can be split to gain appropriate detail information and evaluation.
Futures and Options Contracting
Risk management is supported in each contracting subsystem by an integrated futures and options contracting system allowing companies to participate and benefit from the speculative nature of their base industry and to protect their financial positions. These futures and options contracts may be used to buy and sell any type of product, not just oil and gas products. Each contract may have an unlimited number of order lines each with a different futures product, and an unlimited number of fills.
Accounting
The Accounting section can create invoices, accept payments and receipts, generate and accept wire transfer statements, in either text or spreadsheet formats, do inter-company transfers and net-outs, and produce reports, both canned and ADHOC.
---
Optional Modules
Analysis Module (Optional)
We have installed an electronic version of Bonner & Moore's Monthly Analysis and Outlooks for NGLs, Chemicals, Natural Gas, Fuel Oxygenates, and Petroleum Markets. This allows the user easy access to forecasts by industry experts, including trending analysis, price differentials by product and location, value/cost relationships, regional inventories and projections, supply and demand by history and projections, and pricing by history and location for the U.S. and Canada. Processing economics are also covered to allow the user to see the costs of processing products and the projected margins for most products. This plant forecasting uses proprietary LP modeling. Also included is international, waterborne economics for products from the U.S. Gulf and East Coasts, Far East, Middle East, Indonesia, North Sea, South America, etc. These are available from Bonner and Moore on a subscription basis.
Decision Support System (Optional)
dTech's own dTERMINEÓ allows any user, from corporate executives to marketers, to combine all the features of a database and a spreadsheet to perform their decision-making duties. Included is a generic database importing and exporting function, as well as, an ADHOC report and graphics generator. This allows the user to incorporate large amounts of data from disparate sources, even legacy systems, and analyze this data in a functionally cohesive manner, using point-and-shoot techniques in a Windows environment.
---
Workflow
Inherent in the system is workflow technology and reengineering results of an Oil & Gas trading and back-room operation. dTEAM uses commercial-off-the-shelf software (COTS) for document printing, spreadsheet analysis, server-based faxing, and server-based communications. By providing this level of integration, users are able to make authorized adjustments to parts of the system without the reliance of systems programmers to make the modifications; e.g., a secretary can make changes to the boilerplate on a contract. The system has been coupled with messaging systems to provide "groupware" functionality in a highly specialized operation.
SYSTEM OPTIONS
There are areas where customization and adaptation to existing company systems, such as the general ledger and ties into customer credit checks, will be required and can be done by either your company, or dTech. Management financial analysis for business segment control and the calculation of profit/loss as per company standards can be integrated into the system. Additional discussions are essential to determine the exact requirements in these areas and then to produce a more defined cost estimate for the work involved. Customizations to the base system are subject to actual definitions and agreement. Our company also does network design and hardware specifications and installations, if that would be of assistance. This Client/Server system currently uses Sybase and a 4GL Windows development tool for operating with personal computers for local and wide area or multiple cities' networks. Plans are under way to convert the product to also operate with Oracle 7+ SQL databases. A joint development agreement has been signed with Oracle to couple the dTEAM System with the Oracle FINANCIALS package, making dTEAM one of the first Oracle FINANCIALS Extensions. Also, dTech has signed an agreement with Bonner & Moore, to couple the APPLY 2000 product, through the use of Oracle as a database. APPLY 2000 is an integrated, flexible yield accounting system which emphasizes the data validation process in petroleum refining. This approach will allow a company to have a fully automated process from lease to plant and beyond, and to account for all operations. These systems are available separately today, and projected to be available with client/server technology, a GUI front-end and an Oracle back-end, in the second quarter of 1995.
ADAPTATION TO OTHER BUSINESSES
This system has been adapted to Refined Fuels, Crude Oil Trading, LPGs (NGLs), Natural Gas, Chemicals, and Commodities. It is designed for multiple currencies. The data base structures were designed for these businesses. Some screen formats would be altered or redone to meet the exact nature of some business needs. This system has a lot of powerful features to make a company using it more efficient and to lower their cost of doing business.
---
DEMONSTRATIONS
We are ready to answer any questions and invite you to a demonstration at our headquarters in Tulsa.
Contact Harvey at 918.585.9988 or 1.800.800.HARV(4278).
---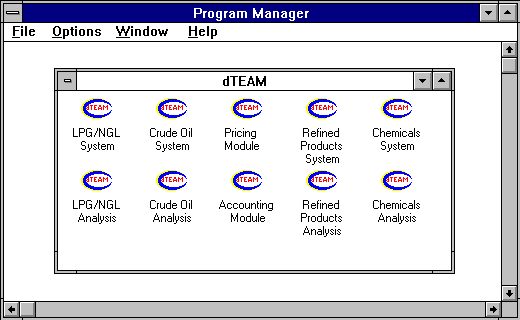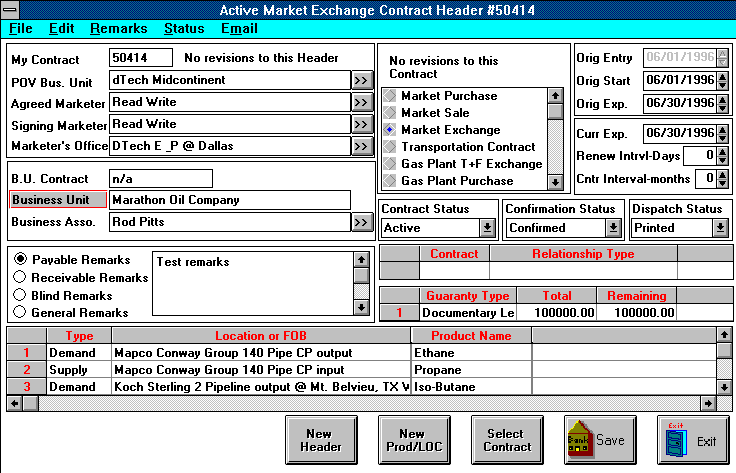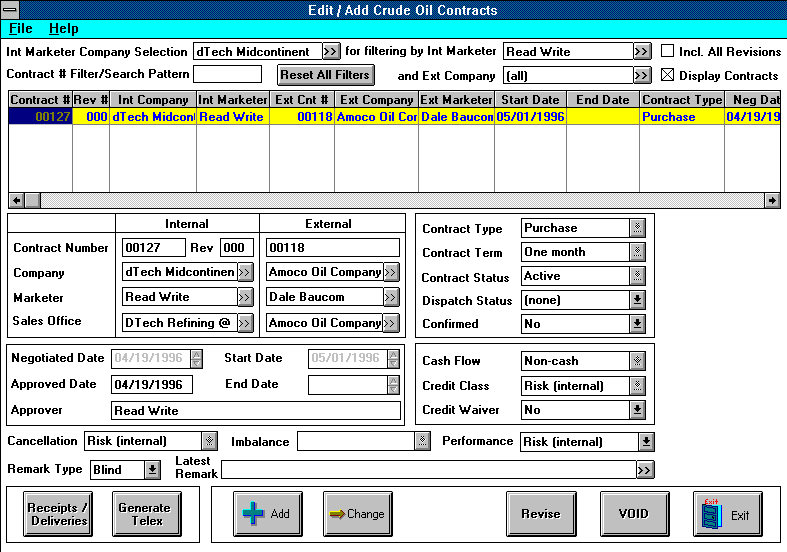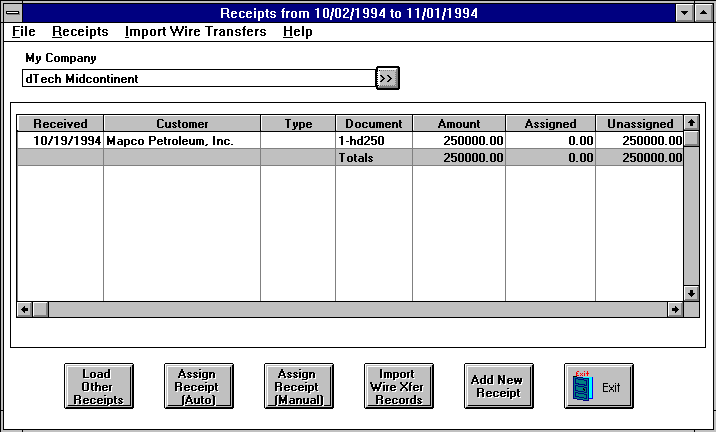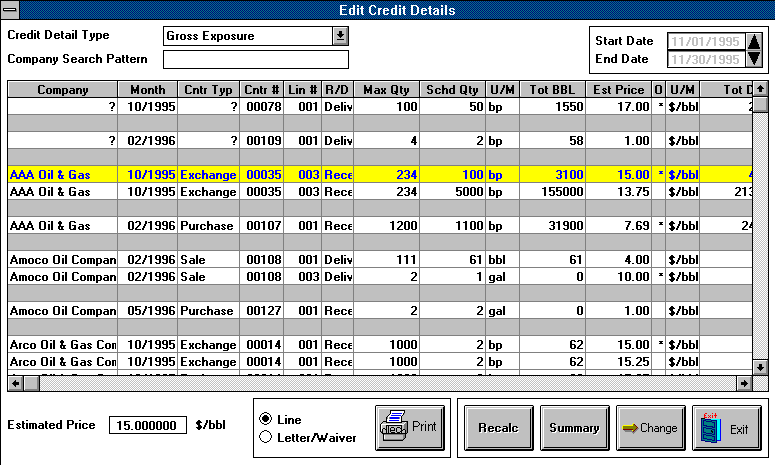 CLICK HERE TO GO BACK TO DTECH HOME PAGE

Send mail to Webmaster@dtechgroup.com with questions or comments about this web site.
Most text, images, and sounds contained in this site are the express property of DTECH Computerists, Inc.
All Rights Reserved. Copyright © 1995-2022 by DTECH Computerists, Inc.
Tulsa, Oklahoma USA 1-800-800-HARV
Information in this document is subject to change without notice.
Other products and companies, referred to herein, are trademarks
or registered trademarks of their respective companies or mark holders.

Rent a luxurious, six bedroom luxury Vail rental house in Vail, Colorado USA – best of Vail home rentals http://www.vailvacationhouserentalsluxuryvailhomerentalsbyownercolo.com
Rent a luxurious, six bedroom luxury Vail rental home in Vail, Colorado USA - best of Vail rental - http://www.vailrental.net/
DTECH Custom Computer Software and Software Development located in Tulsa, OK USA - http://www.dtechgroup.com/
DTECH OKIDATA PRINTER REPAIR located in Tulsa, OK USA - http://www.dtechgroup.com/
DTECH EPSON PRINTER REPAIR located in Tulsa, OK USA - http://www.dtechgroup.com/
DTECH ENCAD PRINTER REPAIR located in Tulsa, OK USA - http://www.dtechgroup.com/
Rent a luxurious, six bedroom luxury Vail home rentals home in Vail, Colorado USA - best of Vail house rentals - http://www.vailvacationhouserentalsluxuryvailhomerentalsbyownercolo.com/
DTECH Hewlett-Packard HP PRINTER REPAIR located in Tulsa, OK USA - http://www.dtechgroup.com/
DTECH EPSON PRINTER REPAIR located in Tulsa, OK USA - http://www.dtechgroup.com/
Rent a luxurious, six bedroom luxury Vail-vacation-home rentals home in Vail, Colorado USA - best of Vail vacation house rentals - http://www.vailvacationhouserentalsluxuryvailhomerentalsbyownercolo.com/
K&L Auto Wrecking located in Las Vegas, NV USA - http://www.las-vegas-used-auto-parts.com/
Metro Tulsa PRINTER REPAIR located in Tulsa, OK USA - http://www.metro-solutions.com/
HRST Health Risk Screening Tool Computer Software located in Tulsa, OK USA -http://www.hrst-psr.com/
PSR- Physical Status Review Computer Software located in Tulsa, OK USA -http://www.hrst-psr.com/
DTECH HRST Software in Tulsa, OK USA - http://www.dtechgroup.com/
Tulsa EPSON PRINTER REPAIR HP PRINTER REPAIR located in Tulsa printer repair - http://www.metro-solutions.com/
For the best in Japaneseaurant and Japanese food delivery in Tulsa - https://siansushi.com/
Great sign shop in Tulsa for unique designs, competitive prices, unmatched quality - http://www.divigne-signs-printery-graphics-design-banners-lamination.com/
Great sign shop in Tulsa for unique designs, competitive prices, unmatched quality - http://www.divigne-signs.com/
This Web Site was last updated: 05/19/22 08:47:49 PM Central Time Zone - USA